€ye was curious...Were there more abortions by black women in New York City than live births in 2013 ?
https://www1.nyc.gov/assets/doh/downloads/pdf/vs/vs-pregnancy-outcomes-2013.pdf
This is an effort to highlight the value of human life and call attention to New York's "startling" numbers, which come from a 2013 report on pregnancy outcomes compiled by the city's Department of Health and Mental Hygiene's Bureau of Vital Statistics. The numbers have been widely reported by conservative media outlets, including a National Review article.
Figuring out the answer to this question proved rather simple. The first place we went was that 2013 report, the most recent data available, which provides exhaustive breakdowns of birth statistics in New York City. The agency lists pregnancy outcomes by race and ethnicity, as well as by borough, type of birth (live birth, C-section, premature) and health of the mother.
According to the report, in 2013 black women accounted for 29,007 terminated pregnancies, representing almost 42 percent of all abortions in the city. That same year, black women in the city gave birth to 24,108 babies. With abortions surpassing live births by nearly 5,000, African-American women in the city clearly terminated pregnancies more often than they carried babies to term. Black women terminated pregnancies at a rate of 67.3 per 1,000, a rate far higher than any other racial or ethnic group.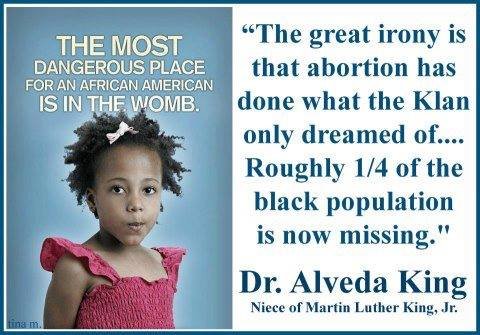 €ye checked...The statistics were similar the previous year 2012, when African-American women in the city had 24,758 births and underwent 31,328 abortions.
The numbers for black women in New York City contrasted with women in other racial and ethnic categories. In 2013, births far surpassed abortions for white, Hispanic and Asian/Pacific Islander women. Hispanic women accounted for the second-most abortions in the city with 21,555, but they also had 35,581 live births. Asian women had both the fewest abortions and fewest births, while white women accounted for the most births overall and second-fewest abortions.
There was less discrepancy between the number of births and terminated pregnancies for black women statewide. In 2013, black women in New York state gave birth to 36,130 babies and underwent 34,960 abortions, according to the state's health department.
Nationally in 2009, black women had abortions far more often than white and Hispanic women, according to data compiled in December 2013 by the National Center for Health Statistics.
Still believe Black Life Matters ?
Obviously, the Black Fetus Does Not Matter, even if it is within the Sacredness of the Melanin Womb.
Black women in NYC committ the greatest froms & magnitudes of "Neonaticides" and at best "Maternal Filicide"/ "Infanticide".
"Black Lives Matter, but Not in the Sacred Melanin Womb !"
Holla at´cha Boi...